Start your own Subscription website
Subscription billing & selling plans made easy.
Present Multiple Plans
You can sell different plans / packages with different prices. For example, you can set a monthly cost, and an optional upfront fee. Typically you'd create two or three plans, but you're free to add an unlimited number of packages if you wish.
The pricing options are flexible, for example, you may wish to just sell an item 'one-off' (such as a trial). In this case, simply set the package with no monthly cost, and just an upfront fee.
Manage one-off and subscription payments
Subscription payments and also upfront (one-off) payments are handled by Stripe. This gives you a lot of control over your subscription website, as you can vary the styles of payment you wish to offer.
You can mix and match, for example have a package which has a simple monthly cost, or, add an upfront cost to it (for example an administration fee). Subscribie will only ask customers for the information you need; if you're only selling on subscription, with no upfront cost, Subscribie will skip that step. Making the checkout as fast as possible means more people will complete the checkout experience.
Got a website already? You can embed Subscribie into it
You can embed Subscribie into an existing website. We provide a piece of code which you simply paste into your website. Just login to your shops admin dashboard, copy & paste the code and you're done!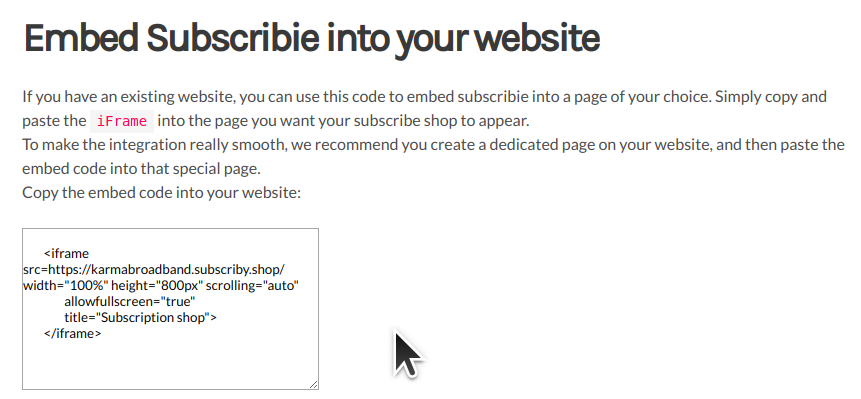 Order notes
When you create a subscription website, you can request the customer (optionally) leaves you a message. This is useful for customisation, or if you simply need more information from the customer before starting their subscription. On your administration dashboard you can view order notes, and the email address of the customer who made the order.
Upon editing your subscription shop items, simply check the box "Require note from customer", and customers will have the option to specify a message during the order process.
Once complete, on your admin dashboard, you can view the most recent order notes against the customers email address.
Upload Files
You can upload files (documents, mp3 and pictures) and make them available for download for subscriber-access only. Once users have an account, you can upload content which appears on their dashboard when they log in. Access is protected so that only subscribers who log in can download or access the files. For video content, you can create private pages, and embed youtube videos on them to share private videos hosted by YouTube.
Start now
Integrated online chat
Chat live with your existing and potential customer, with the free embedded live chat service. We integrate with the popular "Tawk" live chat widget so you can stay in touch with customers easily and quickly.
Style and customise your shop
With a little CSS know how, you can change the colours and style of your subscription website. This is really useful if you're wanting to embed your subscription website into an existing site, or if you have brand colours you want to stick to.
How it works
From your subscription website dashboard, under modules click 'Style Shop'. From here your able to insert custom style rules to change the existing colours. You'll need to know a little CSS for this, and it's super easy!
Free Shop address
Every shop gets a free shop web address, so if you don't have a web address already, you can use ours for free. If you have an existing website address, you can either embed Subscribie into your existing website, or ask for help to connect your existing address to Subscribie.
Add Pages
Add basic pages to your subscription website to give more information to your subscribers as you build your subscription website.
You can create private pages, making them only visible to your subscribers giving them access to exclusive information once they subscribe.
Start now